Here at Alpine Veterinary Hospital, we pride ourselves on having high quality, top of the line medical and surgical treatment for equines. We service horses, ponies, donkeys, and mules.
Ambulatory Field Service
Our ambulatory trucks are fully stocked to make on-site farm calls so we can bring the medicine to you!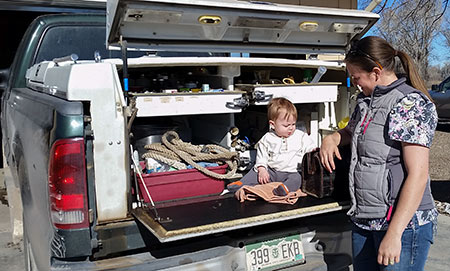 Examinations
Physical examinations on horses include checking all vital signs (pulse rate, temperature, and respiratory rate), evaluating eyes and vision, hair coat and skin, teeth and tongue, digital pulses (which may indicate lameness or hoof abscesses), gastrointestinal quadrants (which help us to assess GI motility and overall health), body condition, and nutrition. We can also measure height in hands (4") or attempt to age a horse upon request! Please check out our vaccines link for more information!
Lameness examinations involve in-hand or ridden evaluations, flexion and stress tests, nerve and joint blocks, and imaging, including radiography and/or ultrasonography.
We also offer pre-purchase examinations, which include lameness evaluations, radiographs, all that is listed above, and personal requests.
Reproduction
Our ultrasounds at both hospitals are our best instruments for use in Breeding Soundness Examinations, cycle status checks, planned breedings, and pregnancy evaluations. We also assist in difficult foalings, give nursing care to neonates, perform uterine culture and biopsies, and uterine lavages and infusions.
Health Certifications and Coggin's tests
When crossing state lines or performing in many competitions, up-to-date health certifications (aka Certificates of Veterinary Inspection) and Coggin's tests are required. These have to be done by any one of our USDA accredited veterinarians. A Coggin's test is used to diagnose the very contagious and deadly disease Equine Infectious Arteritis and all horses require this for interstate movement.
Imaging: Radiography and Ultrasonography
Both locations have mobile digital x-ray and ultrasound units to use in field or at the hospitals! Radiographs and ultrasound images allow us to see things that we are unable to feel or see with the naked eye.
Many diagnoses require the use of x-rays such as joint fragments, laminitis, navicular syndrome, pneumonia in foals, sinus infections, tooth fractures, and more.
Ultrasounding allows us to evaluate the reproduction, urinary, and gastrointestinal tracts, as well as lung and soft tissue examinations such as tendon and ligament injuries.
Surgery
We are currently equipped to perform routine field surgeries such as castrations and umbilical hernia repairs, as well as more complicated surgeries such as cryptorchid castrations, minor orthopedic procedures, enucleations, mass removals, and more.
Dentistry
Horses require routine dental exams as their teeth constantly grow and erupt throughout their lives. Exams and floats are needed to ensure that they do not have points that cause cheek and tongue ulcers, hooks that prevent proper chewing, fractured teeth, or abscesses.
Laser Therapy
Our new state-of-the-art cold lasers have helped change the game in multiple soft tissue injury and wound cases. Ask us for more details!
In-house Laboratory
We have blood machines that help us to evaluate multiple parameters in our small and large animals including CBC and Blood Chemistries. A CBC, or Complete Blood Count, assesses the animal's white blood cells (infection fighting cells), red blood cells (oxygen carrying cells), and platelets (clotting cells). The Chemistry panels help us to evaluate the health of multiple organ systems including the liver and kidney.
Our doctors and veterinary technicians are also proficient at preparing microscope slides in order to evaluate blood and tissue smears, cytologies, bacterial samples, fecal floats, and more.
Acupuncture
Dr. Alex Baker is a certified veterinary acupuncturist and offers this incredible service to both small and large animals. A therapeutic method that uses sterile needles inserted in specific locations. Acupuncture involves using knowledge of the nervous system, anatomy and body system functions to stimulate healing, control pain and rehabilitate the nervous system. We can find areas of tension, discomfort and dysfunction that will help guide the treatment plan. The effects of acupuncture include; decreased pain, increased blood flow, release of the body's anti-inflammatory substances, muscle relaxation and increased healing time.